Improved latency in Asia
Improvement
We launched our 3rd cluster in Singapore 🇸🇬, Asia. Chart generation latency has been reduced by 3 🎉.
💫 Gif charts generation time is now 4 times faster!
Improvement
We've rolled out a performance upgrade that reduced by 4 our average animated charts generation time.
Unlike Google Image Charts, Image-Charts supports animated charts and it's awesome, read more about it in our documentation.
Color fill between two lines support in a multi-line chart
Improvement
Long awaited, we've added support for color fill between lines in line charts.
Without further ado let's look at an example. The line chart below has three series thus three lines and two color fills. First serie (0,1) has a blue color fill (#224499), second serie (1,2) has a red color fill (#FF0000):
chd=s:cefhjkqwrlgYcfgc,QSSVXXdkfZUMRTUQ,HJJMOOUbVPKDHKLH
chm=b,224499,0,1,0|b,FF0000,1,2,0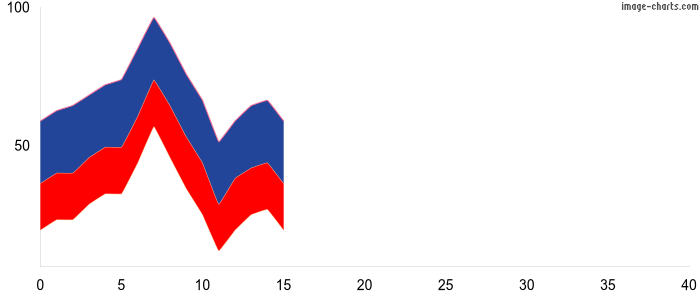 Read more about chm syntax.
PS: This feature was requested by two of our customer, Erisa D. from Spotify 👍.
Legend now supports label orders
Improvement
chdlp let you specify the chart's legend position as well as an optional label order. We now also support the later. Default label order (l) follows the order of chdl but you can overwrite it with r to display labels in the reverse order as given to chdl or specify your custom label orders with a list of zero-based label indexes 0,1,2.
chdl=a|b|c
chdlp=r|1,2,0


Read more about image chart legends.
PS: Thanks to Hunter M. for the report 👍.
Chinese 🇨🇳 and Japanese 🇯🇵 now supported in chart title
Improvement
Hello World in Chinese:

chtt=你好, 世界

---
Hello World in Japanese:

chtt=こんにちは世界

PS: Thanks to Christopher H. for the report 👍.
Legend position: right (default) & left support
Fix
Just like Google Image Charts, we now support right (chdlp=r) and left (chdlp=l) legend position and we brung back the right position as the default one 👍.
Right legend position

chdlp=r

Left legend position
chdlp=l

Bottom legend position
chdlp=b

Top legend position

chdlp=t

Line chart shape markers
New
Shape markers are here! Long awaited, we've released markers for line charts (chm=). Add circle, square, diamond, cross to your chart data serie points.


Read more at our shape markers documentation.
QR Codes support!
New
We've recently released QR Codes support. The good news is, it's fully compatible with Google Image Charts QR Code API.
https://image-charts.com/chart?chs=150x150&cht=qr&chl=Hello&choe=UTF-8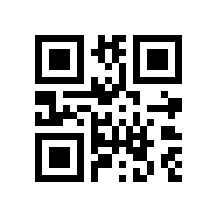 Please note that QR Code feature is currently in beta, the API won't change however once out of beta we will add our watermark at the top right and corner to support our freemium model. But don't worry, your QR Code will still be valid 👌.
If you wish to be future proof right now, please take an Enterprise subscription and make signed request today so even when our QR Code feature will be out of beta you will never see/have the watermark.
Fixed line chart fill bellow 0
Fix
Line chart color filling was not going down to the chart bottom. It now does and Image-Charts now behaves just like Google Image Charts 👌. Thanks to @hunnafresh for the report.

Improved sparkline charts
Fix
Sparkline charts (cht=ls) had vertical axis displayed when the should not, it's now fixed. Thanks to @hunnafresh for the report.

No published changelogs yet.
Surely Image Charts will start publishing changelogs very soon.
Check out our other public changelogs: Buffer, Mention, Respond by Buffer, JSFiddle, Olark, Droplr, Piwik Pro, Prott, Ustream, ViralSweep, StartupThreads, Userlike, Unixstickers, Survicate, Envoy, Gmelius, CodeTree