This monthly release is categorized as follow:
BT (Beta Testing): feature in Beta, feedback welcome!
SR (Stable Release): tested and stable after 1 release in BT (~ 1 month)
RI (Resolved Issues): resolved issues and problems, tested and stable
Admin Console
(SR) Folders' drag and drop reorganisation
Added possibility to drag and drop folders within Library explorer (FMAW widget) to change their hierarchy.
(SR) SAML SSO improvements
We now support IDP (Identity Provider) initiated SAML flows, that will ease integration with your systems and access federation.
(BT) Advanced Search and Filter
The biggest challenge in DAM is enabling users to find the right asset in the fastest and most convenient way. Successful collaboration is all about speed, ease-of-use and quality of results.
We developed a 2-tier search based on filters & search strings. Filters will limit the set of results, while search text will find the right asset.
Available filters: by popular tags, resolution, orientation, etc. We'll add more filter like face vs no face, file type, dominant colour, during the upcoming month.
Filters and search strings can be saved for later re-use.
Brand new and more granular User Roles have been implemented, allowing for a fine tuned visibility of features and settings. The role-based permission model allows you to create users with different privileges which can access and add assets as well as contribute by editing and annotating assets, access billing information and consult the analytics. Doc here
Plugins & Integrations
(BT) Free Images and Icons bank
You have access to thousands of free images and icons to add value to your content, simply open the upload modal and select "Free Images and Icons", browse the dozens of categories or search by tag, and in a couple clicks you will upload freshly curated image(s) to your gallery. Powered by our partner Pixaforge.
(SR) Filerobot Command Line Interface v1.3.0
Filerobot CLI v1.3.0 received addition of progress bar for download and archive construction, and improved date format in list function. Doc and binaries here.
(SR) Uploader API version 2.31:
Enhancement in file refuse policies - now some files can be accepted and only the dangerous to be refused. In the response, you can note the status of each file or URL. If a specific security level refuses a file - this will be visible in the response with additional explanation.
Improvement in magic-bytes detection - new rules are added for better extracting the exact mime-type of each file;
Improvement of failed queries retries and synchronisation processes;
Secured behavior for forced name with path - absolute and relative path in "name" parameter now are treated as equivalent;
Changed video thumbnail folder for better behavior if a file is moved or renamed.
(BT) PHP library for Filerobot
The fully open source PHP library allows you to easily integrate the Filerobot functionalities in your environment, website or SaaS tool. With a comprehensive list of all the unique asset manipulation and distribution, you are now autonomous and can use our technology without the hassle. built and tested using Laravel, Symfony and CakePHP, feel free to comment and contribute! Doc and binaries here.
(BT) Akeneo PIM connector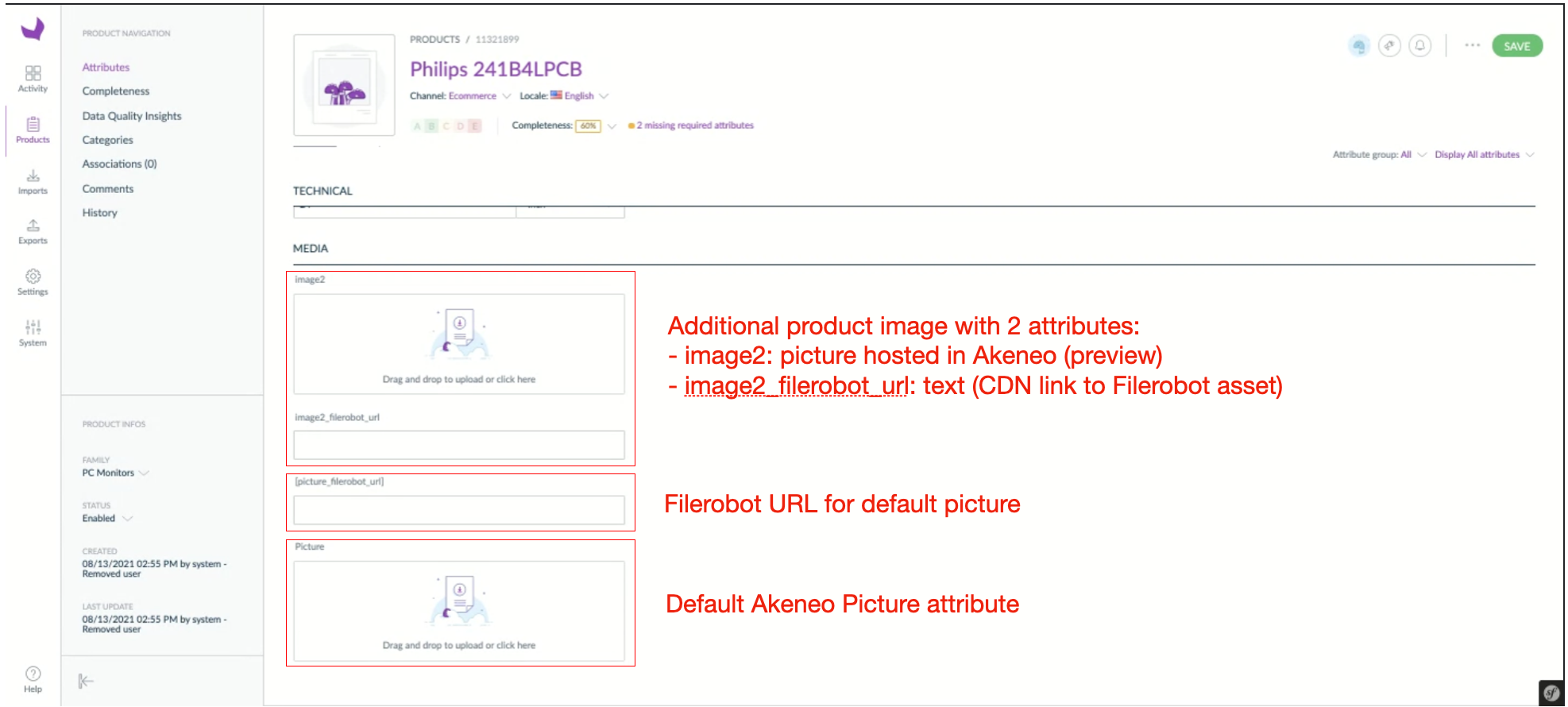 You can connect your Akeneo PIM, Community Edition or Growth Edition (SaaS) to your Filerobot library using this smart script matching your products images using a configurable id (meta) and automatically have available in your product attributes the accelerated Filerobot URL. Doc and binaries here